By Angela Lewis
2016 Presidential candidate Ben Carson's comments about ancient Egyptian pyramids exposed the need to discuss fact-checking and trusting our government's management of intersectional issues.
Recently, the country learned that Ben Carson believed -- and still believes -- that ancient Egyptian pyramids were used to store grain. Most people have laughed about Carson's statement because they have learned about the research and the weight of evidence showing that pyramids served as tombs for deceased pharaohs. However, it seems to be acceptable to ignore other facts that presently affect various groups of people. Why is it acceptable to avoid issues such as the high asthma rate among Black and Latino children in this country due to inadequate environments, or the economic disparity in which Black and Latino people are less likely to save for retirement?
Not accepting these facts has caused consequences in all facets of life, including entertainment. For example, we have seen that factual inaccuracy in media portrayal of history has caused some movies, such as the gay rights activist film Stonewall, to lose millions of dollars for severe misrepresentations of people and events throughout history. As a result, we must act in unity for other social justice causes, and this is why TREE aims to fight environmental, economic and entertainment injustices:
Fact 1: Black people across the country breathe poorer air quality than white people.
Fact 2: Areas with higher levels of poverty and higher concentrations of Blacks and Hispanics have less green space, which is open space such as forestry.
Fact 3: Culturally diverse programming and narratives face barriers to achieve syndication, even though what people see through media affects their bias.
When coupled, these facts are omnipresent and obvious, but less likely to be discussed. Carson's beliefs poignantly demonstrated the need to fact-check information from those hopeful to lead and already in power, particularly when those facts show if they understand the structure and basic information for human necessities.
[caption id="attachment_529" align="aligncenter" width="640"]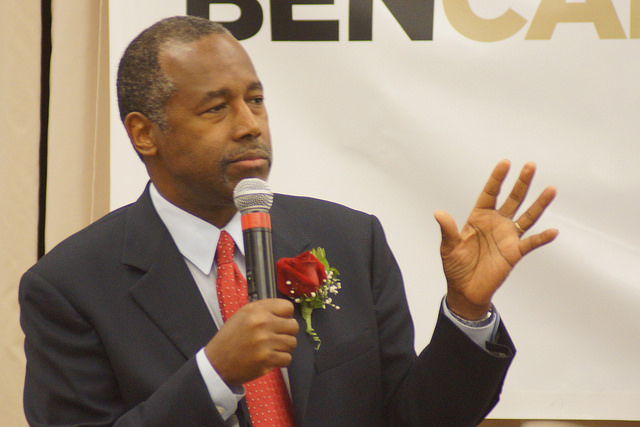 Photo of Ben Carson on July 06, 2015 (Marc Nozell/Flickr/CreativeCommons)[/caption]
Real-life Application of Ignoring Intersections with Race
Carson's statement received pushback because he was unaware of a basic food structure fact; it opened the window for a real conversation regarding perception versus reality in farming, environmental and economic justice in the United States. As it turns out, many people are unaware of problems that farmers and farm workers in this country face. While farm workers are a crucial part of our food network, they receive some of the lowest wages, many times little-to-no health care, and some of the fewest labor protections. For instance, the constantly-declining number of Black farmers have consistently been removed and discriminated against in the conversation around land ownership for farming.
The Environmental Protection Agency (EPA) has promised to make more protections for environmental justice communities, including farm workers, by the year 2020. On its face, it sounds positive, but many advocates are still frustrated with the lack of transparency and genuine effort to evoke change for all communities across this country. The EPA should understand that these protections are necessary for the livelihood of farm workers and communities of color, but many believe that their actions do not lead to the same conclusion.
According to some groups, the EPA has failed to veto or block any pollution permits on the basis of there being an environmental justice issue, yet it is somewhat common knowledge that most toxic waste incinerators are currently in communities of color. To its credit, the EPA has created an Office of Environmental Justice, but they must utilize it to actually protect communities of color, which include the people most affected by poor air and water quality; The EPA is an important agency is in a position to evoke the most impact for communities across the United States.
While we should absolutely fact-check statements made by those hopeful to lead this country, we also must fact-check and hold accountable those already in a position to make change.
Here's what you can do to make a change:
Use EPA's environmental justice screening and mapping tool, the EJScreen, to see what pollution looks like in your community. This interactive map will measure your area's ozone layer levels, indicate traffic and emissions and areas with lead paint, and other environmental and health hazards:
http://www2.epa.gov/ejscreen
If you are in California, you can check the state's hazard map. While it's not interactive, it gives a clear description of how they found the numbers, and can be read while using the EPA's EJScreen:
http://oehha.ca.gov/ej/pdf/CES20Finalreport2014.pdf
While the Public Comment period is closed, residents can still review the responses to the draft agenda to see what the EPA plans to do about providing more environmental protections for high-risk communities.
http://www3.epa.gov/environmentaljustice/ej2020/#comment
You can call your local EPA office and request they review issues of environmental injustice in your community. You can look up your regional office with this map from the EPA: http://www2.epa.gov/aboutepa/visiting-regional-office
Draft a series of tweets to the EPA office of environmental justice or on any of their other social media networks asking for them to protect communities.
Call members of government oversight committees and environmental caucuses and ask them to reach out to the EPA to help protect communities with a robust EJ 2020 plan. Some places you can contact include the following:
This blog is part of TREE's #westillcantbreathe campaign, which uplifts stories about the intersectionality of TREE's three core issues areas (Entertainment and race, Environmental justice and, Economic justice). For more information about sharing your story, please email communications@restoringempowerment.org