The year of our collective struggle, formerly known as 2016, was commenced with the debacle 'Oscars So White.' The nomination for the Oscars did not include a single person nor movie of color; that was an indignity, especially considering the quality movies featuring PoC that came out in 2015. The Golden Globes heard the public outcry and ensured that their nominations exuded inclusivity. The 74th Golden Globes aired on January 8, 2017, and some of the winners was a win for diversity in terms of race and sexuality.
Tracee Ellis Ross won the category of Best Performance by an Actress in a Television Series for her role in the comedic Blackish, a refreshing show that depicts a upper middle class black family. Issa Rae Diop was a fellow nominee for her breakout role in her own comedy, Insecure. Donald Glover won Best Performance by an Actor in a Television Series for Atlanta and Best Television Series. Viola Davis won Best Performance By An Actress in a Supporting Role for Any Motion Picture in Fences, a critically acclaimed play by August Wilson. She costarred with Denzel Washington. Over the past few years, Viola Davis' notoriety for her excellent depictions of human emotions has received the recognition they have deserved.
However one of the biggest wins of the night was Moonlight, a movie that is about the coming to age of a black male and his sexuality. Moonlight won for Best Motion Picture - Drama, which was a win for blackness and the LGBT community. This movie examined the intersectionality of race, sexuality, and challenged the cultural norms of black hyper masculinity. We know that masculinity is very fragile and movies like Moonlight are important to represent a sect of blackness that is often mocked and tortured.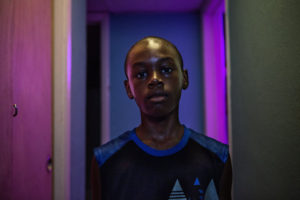 40% of homeless youth are members of the LGBT community and out of that percentage, 65% are estimated to be people of color. Around 20-25% of self-identified members of the LGBT community have been victims of hate crimes; out of that percentage, PoC compromise the majority of victims. Despite the rising prevalence of hate crimes, suicide still remains the leading cause of death for members of the LGBT youth. LGBT youth are 2 to 6 times more likely to attempt suicide in comparison to their heterosexual peers and an estimated 1500 die every year from suicide.
It is a self-evident truth that as long as humans exist, discrimination will pervade. Humans enjoy self-segregation by arbitrary categories. Fighting for diversity is not about eradicating discrimination, it is a fight for progress and growth. In 2016, many Americans battled in the personal microcosm and our macrocosm against bigotry, sexism, and climate change. In 2017, when a movie like Moonlight can win the Best Motion Picture award, it shows that our struggle is not for naught and it should encourage us to keep on persevering for progress' sake.
For a full list of the 74th Golden Globes Winners, please click here.