A little background on Flint
As many people have heard and read, Flint, Michigan has been placed in a state of emergency. A water crisis has left almost 9,000 children with possible lead poisoning, and bottled water is being shipped in just for members of the community to survive. But how did it get this way?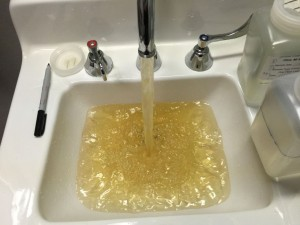 Photo: Joyce Zhu / Flintwaterstudy.org
Here's a brief history of what we know:
Flint, Michigan has a population of approximately 100,000 and around 40% of the residents live below the poverty line. A majority of those individuals are Black.
In 2011, Flint's local government commissioned a study to determine if the Flint River could be used by the city as a primary source of drinking water. The reported findings were that the Flint River was highly corrosive and an anticorrosive agent was necessary to prevent leaching into water lines. Supposedly, the Michigan Department of Environmental Quality (MDEQ) received this report in 2013.
In March 2013, the Flint City Council approved a resolution for a joint water service, the Karengnondi Water Authority, which would provide water to Flint starting in 2016.
Nevertheless, in 2014, the emergency manager at the time, Darnell Earley, ordered a switch from Detroit's water supply to the Flint River from Lake Huron to save money. The water started to taste and look funny soon after the switch. The state-appointed emergency manager approved of this measure despite the 2013 reports. It is not clear whether any anticorrosive agents were ever put in place for the Flint River water source. However, the emergency manager refused to reconnect Flint water system to the Detroit water system later in 2014, despite the Detroit water system stating they would waive the reconnection fee.
Water troubles soon after the switch
Around April 2014, there were reports of lead leaching into the Flint drinking water. According to the plaintiff's side of the story in a November 2014 class action suit, certain community members received a health advisory to boil all drinking water, but all community members were led to believe they could still use the water for washing and bathing. Some of the injuries ranged from lead in community members' blood, skin lesions, respiratory disorders, and other issues. Through all of this information, and reports that General Motors would not even use this water source for their cars, city and state agencies continued to deny the existence of any issue with water contamination.
State resistance to change
Governor Snyder received requests in the past from Flint residents to investigate the water supply along with several protests and formal complaints, and those requests were repeatedly ignored.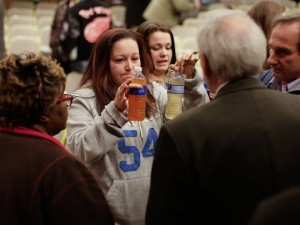 Photo: Ryan Garza, Detroit Free Press
In June 2015, the Environmental Protection Agency (EPA) wrote a memo outlining the problems with the water, which was shared with the MDEQ. The EPA asked MDEQ if there was a water corrosion plan in place, and they allegedly received false information that there was. The EPA gave Flint, Michigan suggested steps to fix its water issues; those steps were not fully implemented. Nevertheless, the EPA has known about the issues in Flint for at least a year. The EPA silently tried to work with the state, instead of taking more aggressive measures. To make matters worse, city officials broke federal laws such as the Safe Drinking Water Act, as they knew certain homes were at high risk for lead poisoning, yet they did not collect water samples.
Governor Snyder recently admitted that he was to blame and pledged to release 2014 and 2015 emails related to the crisis for greater transparency, even though some of the information may be protected. These emails are posted to the governor's website. Here are a series of emails that show the importance of reviewing this information.
Want more information? Watch the ACLU of Michigan's video here to see how they documented this crisis back in 2015.
[embed]https://www.youtube.com/watch?v=L4n9ZeDuhdU[/embed]
In Governor Snyder's speech to Flint residents, he made several demands:
Increase number of Michigan National Guard to staff water stations
Request of the Michigan legislature to give Flint $28.5 million appropriation to cover immediate needs in the community such as bottled water and filters
Increase funding for nurses and other health professionals in Flint-area schools
Expand age eligibility of Women, Infants, and Children healthy nutrition program.
Testing and replacing faucets and other fixture which could be sources of lead poisoning.
Appropriation of $2 million to Flint while state and city resolve inequitable billing to Flint residents for undrinkable water
There is no indication that Governor Snyder will resign from his office early. Nevertheless, the U.S. Attorney's Office for the Eastern District of Michigan is investigating into whether there was criminal activity.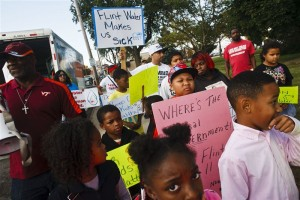 Photo: Christian Randolph/The Flint Journal-MLive.com via AP
What can people do now?
Donate water or help with water crisis research

The Legacy Group Flint Water Project is accepting donations through its Weebly. Legacy Group Water states that 100% of the proceeds will go to allocation and distribution of water. 20 W. Washington St., Ste. 5C, Clarkston: 248-625-5700.
Safe water for Flint is a GoFundMe which, according to the site, will make sure all proceeds go directly to purchasing and delivering bottled water to Flint.
Flint Water Response Team has some great resources to volunteer time and resources to help residents.
Flint Community Schools accepts both cash donations and bottled water, according to Lansing State Journal. You can make a donation to your neighborhood school on weekdays or call the district's finance office at 810-767-6030. To schedule a bottled water drop off, contact 810-760-1310.
If you are donating water, financial donations, or want to volunteer with other groups, this resource may help!
The Flint Water Study is an independent research team at Virginia Tech who are volunteering to study Flint's tap water and updating the impacts through an online repository of data and information. According to their website, they research this information and residents with "considerably high" lead are contacted. To support the Flint Water Study, donate to their GoFundMe.
The Community Foundation of Greater Flint (CFGF) is asking for nationwide donations to the Flint Child Health and Development Fund. Funds will support "public health, medical and community-based services" to address the impact of the water crisis on Flint families.
If you are a Michigan resident, you can make sure to hold your elected officials accountable to support Flint residents.
This is a list of demands residents of Flint created
Continue to contact the EPA to step in if the state continues to negligently respond to Flint's needs. For example:
.@jasoninthehouse statement on #EPA official's resignation in the wake of the #Flint water crisis pic.twitter.com/iPyCXBOVCM

— GOP Oversight (@GOPoversight) January 22, 2016
The regional EPA administrator has resigned, but the Office of the Inspector General has been asked to intervene. It is not clear that this region has met their obligation to residents of Flint.
The EPA is revising its lead and copper rules because of what happened in Flint. They expect this to be ready for public comment in 2017, where each region can be involved in helping to change the conversation.
Work with local community groups to see what advocacy actions they are doing to support the needs of community members.
Have the water tested in your community.

Want to discuss how you are empowered to do more? Create a vlog and you may be featured on our website!
submitted by Abre' Conner